Adding a Labradoodle puppy to the family is a wonderful thing to do. These are highly social, active dogs that will learn to be a valuable and loving member of your home.
Training a hybrid dog can be a bit challenging because of the combination of traits. Poodles are highly intelligent while Labradors are active working dogs with strong instincts. Both breeds are human-friendly if properly socialized.
This article will break down the key components of how to train your new Labradoodle puppy.
Socializing
Have a plan that will start your new pup on their way to being a friend as well as properly trained part of your family. This plan should include socializing with different types of people such as:
Adults and children
Different ages
Different cultures
Disabled people
Both genders
You cannot start too soon. Have your pup held and petted by different members of the family, friends, and even strangers as soon as you bring the pup home.
Part of socialization is handling the Labradoodle in a way that the dog is used to having most parts of their body touched without resisting. Rub the ears, pet the belly, run your hands up and down all of the legs as well as the tail. Make these gestures relaxed and loving. Be sure to include the paws and nails.
Potty Training
This part of the training can be a bit intense in the beginning, but the concentrated effort can pay off relatively quickly if you stick to this plan for most dogs of this breed.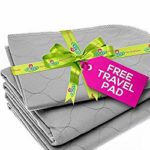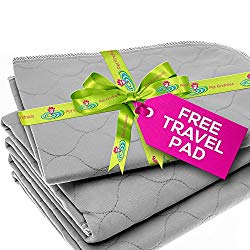 During the first couple of days, take your pup outdoors about every half hour. When they urinate or poop, reward them immediately with a vocal reward such as "Good Boy/Girl" plus a treat or reward of your choosing.
You can hang a bell on a door going to the outside within reach of the dog. Ring the bell when you take them out. The dog will soon associate the bell as a signal to go out and ring it when they need to go.
At night, place pee pads in a location that the pup can get to easily. Bathrooms or laundry areas are a common choice. Show the dog where the pad is. Do not get upset if the dog does not understand right away. Patience and consistency is the name of the game. Know that the pup really wants to please you.
The Pet Kindness washable pee pads are absorbent for nighttime use when you can't bring your puppy outside.
Crate Training
Crate training should also be started early. Every day, place your pup in a crate that has comfortable padding, a favorite chew toy, and a treat. Start when you are doing housework or cooking. Just be in the area of the crate. Leave them in for a gradually longer length of time each day. If they are adapting well, take a short trip. Release them as soon as you return and give them attention.
If the crate training is going well, take them on a short car ride while being contained. Some pups may need time to adjust to the car motion. If they get carsick and vomit, it will be in the crate and not on your car interior.
Getting Used to a Leash
Starting your Labradoodle pup on a leash early is a good idea. We recommend a harness type that puts the strain on the shoulders instead of the neck. Use a recoiling strap that has some give. When your pup stops pulling away from you when you are walking, you can replace the harness by using the collar. Teaching the dog to heel or to keep stride with you is a safety factor for both you and the dog.
Chewing
Pups like to chew. Giving them a variety of chew toys is a smart idea. Pick soft and hard texture toys. Some that make noises. Dogs may like to play tug. If they are happy with their chew toys and feel they are getting enough attention, usually they will leave your things alone. If they chew on items that are inappropriate, give them a stern "NO" and redirect them to their toys.
Wrap
Love your Labradoodle. Take them out to play once a day if possible. Be highly interactive and you will enjoy a wonderful companion for life.